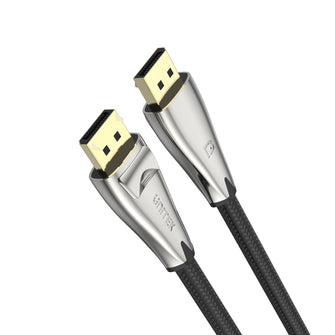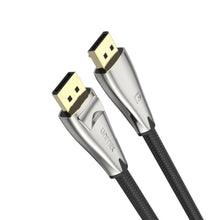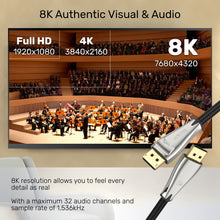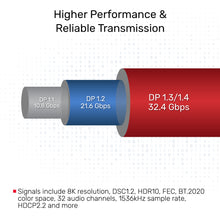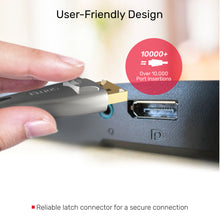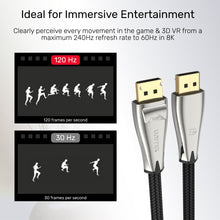 8K Display Port 1.4 Cable C1607BNI
SGD 0.00
( / )
Tax included.
Are you looking for a DisplayPort cable that can transmit the 8K@60Hz signal? This Unitek DisplayPort cable is designed specifically to deliver an unparalleled display signal. Backward compatible with earlier versions, it's perfect for gamers and anyone who wants to enjoy 3D VR or HD movies in their full glory. With a refresh rate of up to 240Hz, this cable ensures you'll perceive every movement in your game or movie clearly. It also supports up to 32 audio channels and a sample rate of 1,536kHz, providing an authentic audio experience.
Top Features of DisplayPort Cables for High-Resolution Gaming
Model C1607BNI, C1609BNI Unparalleled 8K 60Hz definition, Maximum 240Hz ideal for immersive entertainment32.4Gbps bandwidth, Reliable latch and gold-plated connectors, Zinc-alloy housing as well as braided coat. UNITEK DP 1.4 cable with the specification which supports for Display Stream Compression 1.2 (DSC), FEC, Dynamic HDR metadata etc., offers the ideal values for every frame up to 8K unparalleled visual, and up to 240Hz refresh rate to let you enjoy the immersive entertainment and gaming experience.
Product Features:
Design for transmitting the 8K@60Hz DisplayPort 1.4 unparalleled display signal. Backward compatible.
Ideal for immersive entertainment. Perceive every movement clearly in the game & 3D VR, from a maximum 240Hz refresh rate to 60Hz in 8K.
With a maximum 32 audio channels and sample rate of 1,536kHz to provide authentic audio experience.
Supports up to 32.4Gbps bandwidth, which ensures the comprehensive signals can be transferred without latency, including 8K resolution, DSC1.2, Dynamic HDR, FEC, BT.2020 color space, 32 audio channels, 1536kHz sample rate, HDCP2.2 and more.
Made with corrosion-resistant gold-plated connector as well as interference-free construction with individual wire insulation that wrapping the bare copper conductors with foil shielding and braided shielding.
With reliable latch connectors for a secure connection that is tested rigorously for 10,000+ secure insertions guaranty.
With the strong zinc-alloy housing (12mm thin only, which is one of the slimmest on the market) as well as premium protective PVC braided jacket to provide ultra-durability and protection.
Hardware & Dimension:
Cable Length: 1.5M, 3M, Cable OD: 7.5mm
DP Version: DisplayPort 1.4 @8K 60Hz
Materials: Zinc-alloy housing
Package Contents: 1x 8K DisplayPort 1.4 Cable