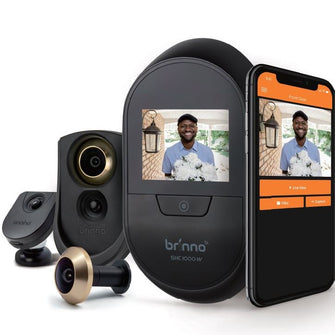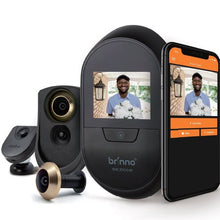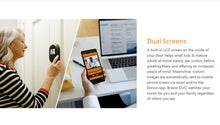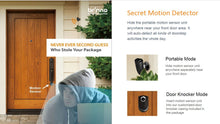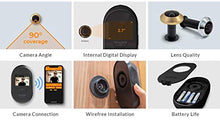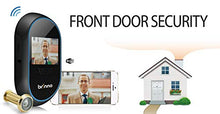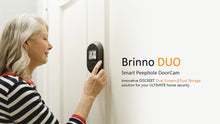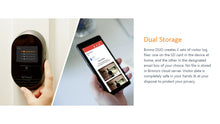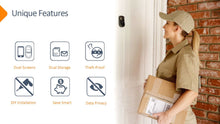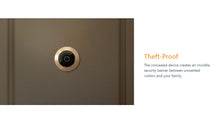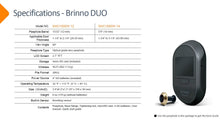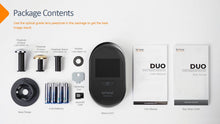 Brinno Front Door Peephole Security Camera
SGD 0.00
( / )
Tax included.
Features of Duo Smart peephole camera for surveillance Brand Brinno Connectivity technology Wireless Recommended product uses Home Security System Connectivity protocol Wireless Model name Peephole Camera Power source Battery Powered Colour Black Mounting type Door Mount Alert type Motion Only Wireless communication technologies Wi-Fi Local 1 year Local Warranty GOLD...
Features of Duo Smart peephole camera for surveillance
| | |
| --- | --- |
| Brand | Brinno |
| Connectivity technology | Wireless |
| Recommended product uses | Home Security System |
| Connectivity protocol | Wireless |
| Model name | Peephole Camera |
| Power source | Battery Powered |
| Colour | Black |
| Mounting type | Door Mount |
| Alert type | Motion Only |
| Wireless communication technologies | Wi-Fi |
Local 1 year Local Warranty

GOLD PEEPHOLE: Discreetly see who's at the door from anywhere! Photo alerts are sent directly to your phone when motion is detected. Images can also be viewed using the Brinno Duo's LCD screen and are saved in a visitor log that can be accessed through the camera SD card

NO SUBSCRIPTIONS: Safety and security shouldn't cost you an arm and a leg. Brinno Duo has no hidden fees, subscriptions, add-on accessories, or tricky fine print

AUTOMATIC ALERTS: Photo notifications of door activity are sent to your smartphone via email. No cloud or mysterious server. Your data remains in your possession without a mysterious middle man hosting your private information

WiFi Enable, 2.7'' LCD, Micro SD card, 4 AA Battery, Knocking and motion detection

mounting type: Door Mount

Duo Smart Peephole Camera Installation for Home Security 

Installing a peephole camera is easier than ever when you follow our step-by-step guide. Get the peace of mind of knowing who is at your door without opening it.

Step 1: Remove your existing peephole viewer.

Step 2: Fit the outdoor unit through your peephole.

Step 3: Connect the indoor unit on the other side.

Dual Screens: A built-in LCD screen on the inside of your door helps small kids & mature adults at home clearly see visitors before greeting them and offering an increased peace of mind. Meanwhile, visitors' images are automatically sent to their mobile phone via email and/or the Brinno app. Brinno DUO smart peephole camera watches your home for you and your family regardless of where you are.

Secret Motion Detector: Hide the portable motion sensor unit anywhere near your front door area. It will auto-detect all kinds of doorstep activities the whole day.
1. After removing the camera and peephole lens from my door, I accidentally broke the end of the peephole lens. What should I do?
If you have accidentally broken the end of the peephole lens after removing the camera and lens from your door, here are the steps you can take: Assess the damage: Examine the extent of the damage to determine if the lens is still functional or if it needs to be replaced entirely. Safety precautions: Be cautious while handling the broken lens to avoid any injuries. If there are any sharp edges or fragments, use gloves or protective equipment to handle them safely. Contact us: If the peephole lens is still under warranty or if you purchased it recently, you can send us an enquiry. They might be able to provide guidance or offer a replacement lens. .
2. How do I remove my peephole camera from my door? It's really tight and I can't get it off!
To remove the camera from your door, try rotating it in a clockwise direction until it feels secure. Then, turn it counterclockwise to release it.
If that doesn't work, you'll need to open the rubber flap that covers the SD card slot. Use a screwdriver to loosen the screw below the SD card slot. Once the screw is loose, you should be able to easily remove the camera.
3. How can I adjust the focus of my peephole camera? The image is not clear.
Please review the following:
1. Only use the peephole that was designed for your camera. Using a regular peephole may lead to an image that is distorted and unfocused.
2. Ensure that the protective film has been removed from the lens.
3. Check if the peephole or lens is dirty. If there is a fingerprint on the lens, it may cause the images to appear out of focus.
If the protective film has been removed and both the peephole and lens are clean, please contact us.