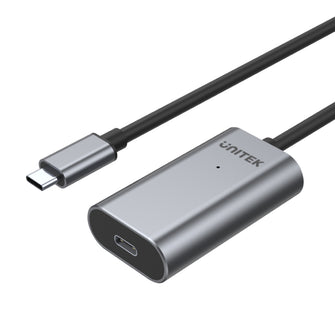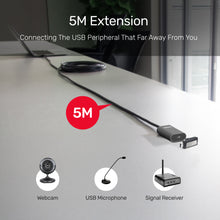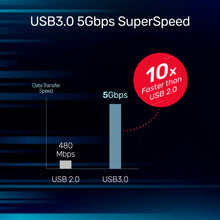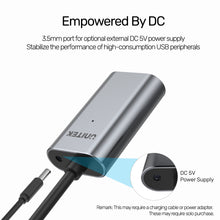 USB-C Extension Cable Transfer Data with 5GBPS Speed And compatible with USB 2.0/1.1
SGD 0.00
( / )
Tax included.
Get the power you need with Unitek's USB C Extension Cable. With 5 metres of extension and support for webcams, USB microphones and signal receivers, this cable provides you with the fast and reliable connection you need. Delivering super-speed transfer at 5Gbps, it offers convenience and efficiency in one simple set-up. Plus, it supports up to DC 5V power supply whilst allowing for easier workstation arrangements. Get your workstation just right with Unitek's USB C Extension Cable.
Specifications of USB-C Extension Cable
Model: U305A
Cable Length: 5M
Products Features:
This active extension cable connects a device to device for data transfer only, up to 5M.  With USB 3.0 specification, data transfer speed up to 5Gbps. Backward compatible with USB 2.0/1.1.
Built-in premium chipset supports stable long-distance data transmission.
Stronger and more durable with aluminium housing.
Constructed with corrosion-resistant, nickel-plated connectors for optimal signal clarity and shielding to minimise interference.
Plug and play, no need to install the driver.
With an extra DC jack*, use only when connecting high power-consuming devices.
* Note: Power adapter is not included and requires solo purchase.
 
Package Contents:
1 x USB-C Active Extension Cable
1 x User Manual

1.What Is a USB C Extension Cable?
In short, it's a cable that allows you to extend the reach of your USB-C port. It's perfect for connecting devices that are just out of reach, like a printer on the other side of the room, or a hard drive that's tucked away in a corner. Plus, it gives you an extra port so you can easily connect multiple devices at the same time.
2.How to Use a USB C Extension Cable?
Now that you know all about USB C extension cables, let's talk about how to use them. First, make sure your device is compatible with a USB C extension cable. Most devices are, but it's always best to check. Next, identify the port on your device that you want to use the extension cable with. The port will be labelled, and it's usually easy to spot. Once you've identified the port, connect the extension cable to the port and to your computer. You may need to use a USB C adapter for this step. And that's it! You're now ready to start using your extension cable.
3. What are the benefits of using a USB C extension cable?
For starters, they're longer than your standard USB cables, which gives you more flexibility when you're working. They're also reversible, so there's no more guesswork when it comes to plugging them in.
4. Is There a Maximum USB-C Extension Cable Length?
If you use a USB-C Extension Cable for a long distance, its performance will decrease. The official specs for USB 3. x devices don't mention the maximum distance. However, if you need to use a cable that's longer than three metres or 5 meters, you can use a USB repeater to boost the signal. This way, the signal won't lose its quality.